Italy Wedding Packages All Inclusive
Italy Wedding Packages All Inclusive, we secure your wedding services and lodging in a luxury villa – Bride, Groom and Wedding guests.
Our Italy Wedding Packages All Inclusive cover all fundamental services for your italian wedding but can also be tailored to your personal necessities and number of guests.
Romantic Italian Weddings and Villa Baroncino present here one of the "Italy Wedding Packages All Inclusive" designed to give you an idea of what is available for your wedding ceremony and reception in our Villa.
Call Us Now… Our Romantic Italian Weddings Specialists are on  online Mobile: +39.335.8120855
VILLA BARONCINO ITALY WEDDING PACKAGES ALL  INCLUSIVE– "CHARMING PACKAGE"
Everything proposed in the CLASSIC PACKAGE with the addition/substitution of:
• Open Bar of 5 hours during the party for 40 guests with no drink limitations (Additional cheaper options available like cash bar, buy drinks personally with no corking fee etc.);
THE OPEN BAR BAR INCLUDES THE DEAL HEREUNDER:
DEAL: Lighted Counter Bar
Would you like to personalize your counter bar with a light effect that will make your entire party bar eye-catching?
Your guests will certainly be impressed.
Our lighted counter bar measuring 290x80x110.
You can change the counter bar colors as to how you best prefer thanks to a RGB led that allows you to choose the most fascinating and elegant color perfectly in match with your wedding.
You can choose the color you fancy before the wedding party.
Please check this link to see the lighted counter bar
• "APE PROSECCO BAR" served during the aperitifs time on an Ape Piaggio
• Italian Ice cream cart served to your guests during aperitifs time
• Limoncello Mignon Bottle to give your guests as a wedding favor a sip of the most famous Italian liqueur to taste at the end of dinner or to toast during the speeches
• String Trio Musicians for the ceremony and back at the villa for the aperitifs
• Jazz Band Trio will perform for you during the reception meal in the marquee
• Funky Photo Booth for the wedding evening for amazing photos with your guests and so much fun
 • Pizza Buffet set up and served to your guests during your wedding party
• Farewell BBQ organized in the garden of the villa for 40 people to thank your friends for joining you for your special day in Italy!
• Karaoke Night to sing and have fun with your guests listening to your favourite music selection
• Breakfast organized at the villa for 40 guests the morning after the wedding (or on a different day if more suitable for you)
• Luxury antique wedding car for the wedding couple to use on the wedding day for pictures to choose from an Alfa Romeo Spider 1750, MG TD, Alvis Convertible, Rolls Royces, Mercedes Convertible, Jaguar, Camper van etc.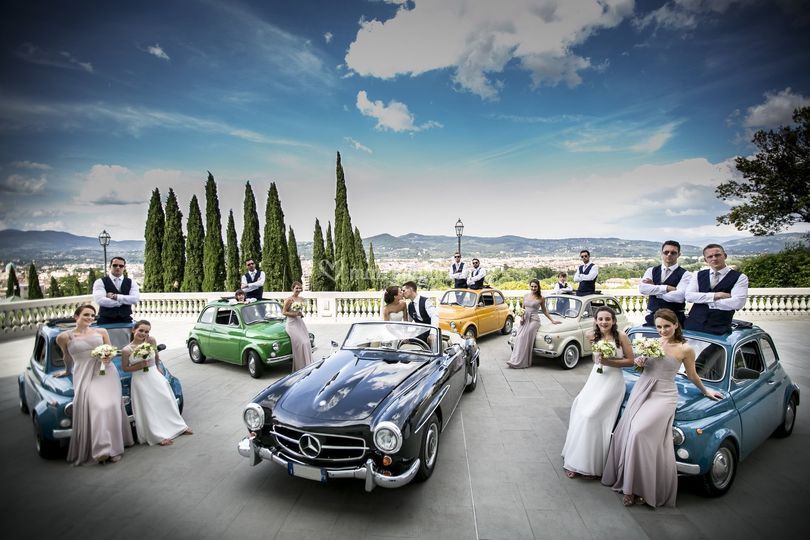 Write us to receive a Custom Quote